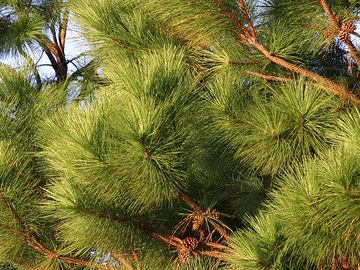 Pinus taeda
(loblolly pine) - Mississippi has more tree farms than any other state.
SEQUENCING PINE BACS
In 2008, MGEL's Daniel G. Peterson served as principal investigator and primary author on a Community Sequencing Program (CSP) proposal submitted to the Department of Energy's Joint Genome Institute (JGI). Co-PIs on the proposal were Jeffrey F.D. Dean (U. of Georgia), C. Dana Nelson (US Forest Service), Ronald R. Sederoff (NC State), and Daniel S. Rokhsar (JGI). The goal of the proposal was 10X sequencing of 100 clones from the loblolly pine '7-56' BAC library generated through NSF DBI-0421717. Specifically, the investigators requested sequencing of 25 randomly-selected BACs, 25 BACs containing low-copy DNA (as determined by macroarray analysis), and 50 BACs containing genes involved in carbon metabolism (i.e., targeted BACs).
In July 2008, the JGI announced the results of its 2009 CSP competition. The first project highlighted in the DOE-JGI press release was the Peterson-led proposal on loblolly pine (also see http://www.jgi.doe.gov/sequencing/why/pine.html). The success of the proposal was due, in part, to the considerable support it received from members of the international conifer community. Of note, the proposal garnered letters of support from scientists and administrators in the USDA Forest Service, industry (Range Fuels, Int'l Paper, ArborGen, SAPPI, CellFor, Weyerhaeuser), the principal U.S. pine breeding cooperatives, non-profit agencies (e.g., the Pine Genome Initiative, Institute of Forest Biotechnology, Nat'l Council for Air and Stream Improvement, and the Nat'l Center for Genomic Resources), and conifer scientists from 20 academic institutions in nine nations. While the CSP does not provide funds for non-DOE investigators, CSP proposers benefit through close collaboration with the DOE, leadership on key publications emerging from initial sequence analysis, establishment of important national and international collaborations, and publicity for their programs/institutions. In Dr. Peterson's case, the CSP will directly leverage work done under NSF award DBI-0421717 (on which he is PI) and hence increase the scientific impact of the NSF grant.
Targeted genes
genes listed below have been proposed as targets for selecting BACs. Asterisks are used to identify genes that appear to be up-regulated in developing xylem.
| | | | | | |
| --- | --- | --- | --- | --- | --- |
| | GENE NAME | GENE PRODUCT | FUNCTION | CONTACT | |
| | PtAct1 | Actin | cytoskeleton structure | Joe Nairn | |
| | PtAct2 | Actin | cytoskeleton structure | Joe Nairn | |
| | PtAct3 | Actin | cytoskeleton structure | Joe Nairn | |
| | PtAct4 | Actin | cytoskeleton structure | Joe Nairn | |
| | PtAct5 | Actin | cytoskeleton structure | Joe Nairn | |
| | | | | | |
| | PtTubA1 | Alpha-tubulin | cytoskeleton structure | Joe Nairn | |
| | PtTubA2 | Alpha-tubulin | cytoskeleton structure | Joe Nairn | |
| | PtTubB1 | Beta-tubulin | cytoskeleton structure | Joe Nairn | |
| | PtTubB3 | Beta-tubulin | cytoskeleton structure | Joe Nairn | |
| | PtTubB4 | Beta-tubulin | cytoskeleton structure | Joe Nairn | |
| | PtTubB5 | Beta-tubulin | cytoskeleton structure | Joe Nairn | |
| | PtTubB6 | Beta-tubulin | cytoskeleton structure | Joe Nairn | |
| | | | | | |
| | PtKat1 | katanin-like | microtubule severing | Joe Nairn | |
| | | | | | |
| | PtCesA1* | cellulose synthase | cellulose metabolism | Joe Nairn | |
| | PtCesA2* | cellulose synthase | cellulose metabolism | Joe Nairn | |
| | PtCesA3* | cellulose synthase | cellulose metabolism | Joe Nairn | |
| | PtKor1* | Korrigan endoglucanase | cellulose metabolism | Joe Nairn | |
| | PtSuSy1* | sucrose synthase | cellulose metabolism | Joe Nairn | |
| | PtUGP1* | UDP glucose pyrophosphorylase | cellulose metabolism | Joe Nairn | |
| | | | | | |
| | PtCslA1* | glucomannan synthase | hemicellulose metabolism | Joe Nairn | |
| | PtCslA2* | glucomannan synthase | hemicellulose metabolism | Joe Nairn | |
| | PtGMP1* | UGP mannose pyrophosphorylase | hemicellulose metabolism | Joe Nairn | |
| | PtGMP2* | UGP mannose pyrophosphorylase | hemicellulose metabolism | Joe Nairn | |
| | PtGT47c* | glycosyl transferase family 47 - xylan | hemicellulose metabolism | Joe Nairn | |
| | PtGT47d | glycosyl transferase family 47 - pectin | hemicellulose metabolism | Joe Nairn | |
| | PtGT43 | xylan? | hemicellulose metabolism | Joe Nairn | |
| | | | | | |
| | PtGH19(1)* | glycoside hydrolase family 19 | other cell wall | Joe Nairn | |
| | PtGH19(5)* | glycoside hydrolase family 19 | other cell wall | Joe Nairn | |
| | PtCobra* | glycosylphosphatidylinositol | other cell wall | Joe Nairn | |
| | PtFLA1 | fasciclin-like AGP | other cell wall | Joe Nairn | |
| | PtFLA4 | fasciclin-like AGP | other cell wall | Joe Nairn | |
| | PtFLA5 | fasciclin-like AGP | other cell wall | Joe Nairn | |
| | PtFLA6 | fasciclin-like AGP | other cell wall | Joe Nairn | |
| | PtFLA7 | fasciclin-like AGP | other cell wall | Joe Nairn | |
| | PtGDSL | GDSL motif lipase/hydrolase | other cell wall | Joe Nairn | |
| | PtLRK | leucine repeat kinase (transmembrane) | other cell wall | Joe Nairn | |
| | | | | | |
| | PtHDZ1 | HD Zip III | transcription factor | Joe Nairn | |
| | PtHDZ2 | HD Zip III | transcription factor | Joe Nairn | |
| | PtAP2 | AP2 family | transcription factor | Joe Nairn | |
| | PtBZR1 | brassinosteroid | transcription factor | Joe Nairn | |
| | PtBZR2 | brassinosteroid | transcription factor | Joe Nairn | |
| | PtNAC21 | NAC domain | transcription factor | Joe Nairn | |
| | | | | | |
| | PtVEP1 | vein patterning | vascular development | Joe Nairn | |
| | | | | | |
| | PtCAD1 | cinnamyl alcohol dehydrogenase | lignin metabolism | Joe Nairn | |
| | PtCOMT1 | caffeic acid O-methyltransferase | lignin metabolism | Joe Nairn | |
| | PtPAL1 | phenylalanine ammonia lyase | lignin metabolism | Joe Nairn | |
| | PtLac2 | laccase | lignin metabolism | Joe Nairn | |
| | PtLac8 | laccase | lignin metabolism | Joe Nairn | |
| | | | | | |