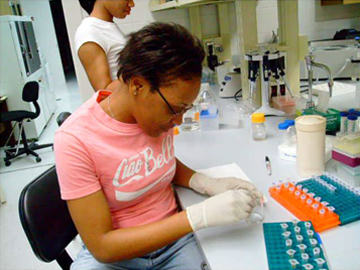 Quiana Hunter performing plasmid isolations
RESEARCH
Our research is focused on exploring the structure and evolution of eukaryotic genomes (principally crop/tree species) using genomic, cytogenetic, and molecular biology techniques. By elucidating and comparing the sequences of genes and repeat sequences from a diverse group of organisms, we hope to illuminate trends in molecular evolution and discover those sequences responsible for economic and adaptive traits. Such research will ultimately lead to crop improvement through marker-aided selection strategies and/or genetic engineering. Additionally, we are investigating repetitive DNA sequences and their role in genome evolution. By integrating cytological, molecular, and genomic data, we are working to illuminate relationships between DNA sequence, chromosome structure, gene expression, and recombination.
Current Research Projects
MGEL is involved in numerous research endeavors. Click on the links below to learn more about MGEL's major research projects.

LOBLOLLY PINE
OTHER PLANTS
ANIMALS
DATA ANALYSIS
Past Projects
MGEL has collaborated on many other research projects including genome studies on plants, animals, fungi, and prokaryotes. Some of these projects are listed below:
| | | | | | | | | |
| --- | --- | --- | --- | --- | --- | --- | --- | --- |
| | Species (common name) | BAC library production | CBCS &/or Cot-filtration | Cot analysis | Collaborators | Research status | Refereed Publications | |
| | Triticum aestivum (bread wheat) | no | yes | no | B.S. Gill (KS State U) | complete | Lamoureux et al. 2005 | |
| | Gallus gallus (chicken) | no | yes | no | R. Ivarie & A.H. Paterson (U of GA) | complete | Wicker et al. 2005 | |
| | Vitis vinifera (grape) | yes | no | no | J.P. Tomkins (Clemson U) | complete | Tomkins et al. 2001 | |
| | Homo sapiens (human) | no | yes | no | J. Dennis (Harvard U) | complete | Dennis et al. 2007 | |
| | soil microbes | no | no | yes | J. Bunge (Cornell U) & S. Epstein (NEU) | complete | Bunge et al. 2006 | |
Technical Expertise
The MGEL staff has expertise in a number of research fields. These include (but are not limited to):
DNA Libraries | Bioinformatics | Cot Analysis | Cot Filtration & CBCS | Cytogenetics