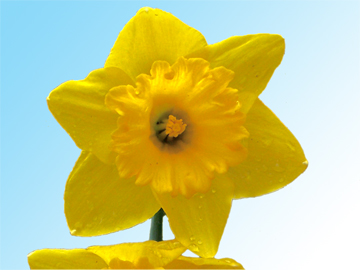 A daffodil near Dorman Hall, home of MGEL
ABOUT US
WELCOME to the Mississippi Genome Exploration Laboratory (MGEL) website!
MGEL is a diverse group of scholars/scientists interested in learning more about the genomes and genetics of plants (and a few fungi and animals as well). We are a rapidly growing part of the Department of Plant and Soil Sciences at Mississippi State University. To learn more about us, click on the links below:

Mission | News | Personnel | Director | Contact or Visit | Facilities & Equipment | Our Logos

We hope you enjoy your visit. If you have any questions or comments, please feel free to contact us.
Administrative Hierarchy
MGEL operates within the following administrative hierarchy, and it is the support and assistance of those working at all administrative levels that has allowed MGEL to become a vital contributor to Mississippi State University's research, teaching, and service missions:
Click on icons to visit websites

Dr. Mark E. Keenum, President

Dr. Gregory A. Bohach, Vice President

Dr. George M. Hopper, Interim Director

Dr. George M. Hopper, Interim Dean

Dr. Daniel B. Reynolds, Interim Head

Dr. Daniel G. Peterson, Director