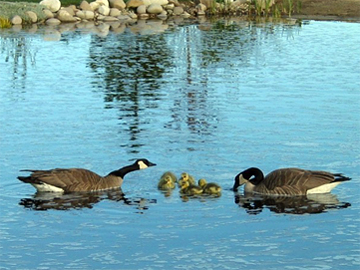 Canadian geese and goslings - Photo by Karen Schmader
CONTACT OR VISIT
Daniel G. Peterson
Phone: (662) 325-2747
Fax: (662) 325-8742


MGEL Mailing Address:
MGEL - D. Peterson
Department of Plant & Soil Sciences
117 Dorman Hall, Box 9555
32 Creelman Street
Mississippi State, MS 39762
VISITOR INFORMATION
STARKVILLE
The Mississippi Genome Exploration Laboratory (MGEL) is a vital part of Mississippi State University which is located in the beautiful "college town" of Starkville. It is roughly a 2.5 hour drive from Memphis, Birmingham, and Jackson to Starkville and a one hour drive from Tupelo to Starkville.
Click to enlarge
To learn more about Starkville, visit the Greater Starkville Development Partnership.
FLYING TO MISSISSIPPI STATE/STARKVILLE
The nearest airport to Starkville/Mississippi State is the Golden Triangle Regional Airport near Columbus, MS. The Golden Triangle Regional Airport's three letter airport code is "GTR." The GTR Airport is approximately 10 miles from the Mississippi State University campus. GTR has several direct flights from/to Atlanta (ATL) each day. Additionally, their is one flight from/to Dallas/Fort Worth (DFW) each day. Rental cars are available at the GTR airport.
The following map shows how to get from GTR/Columbus to the Mississippi State University campus:
FINDING MGEL
MGEL is located in Dorman Hall near the MS State football stadium. Its physical address is 32 Creelman Street. The most up-to-date maps of the MS State campus can be obtained at http://www.msstate.edu/web/maps/.
South side of Dorman Hall (camera pointed north)
Sign for Dorman Hall as seen driving west on Creelman Street. Dorman Hall is to the left of the sign.
North side of Dorman Hall (camera pointed south)
Dorman Hall is separated from the football stadium by an open area known as The Junction
MGEL occupies roughly one-quarter of the lab and office space on the 4th floor of Dorman Hall. The MGEL Director's office is room 424.
If you would like to visit MGEL, please contact Dr. Daniel Peterson to make arrangements (see above).
HOTELS/MOTELS
Friends, family, and previous guests have recommended the following hotels/motels:
COMFORT SUITES
801 Russell Street
Starkville, MS 39759
662-324-9595
HAMPTON INN
700 Highway 12 East
Starkville, MS 39759
662-324-1333

HOLIDAY INN EXPRESS & SUITES
110 Hwy 12 West
Starkville, MS 39759
662-324-0076 or 800-465-4329
Other Starkville hotels include the following:
DAYS INN & SUITES
119 Highway 12 West
Starkville, MS 39759
662-324-5555 or 800-528-1234
HISTORIC HOTEL CHESTER
101 N. Jackson Street
Starkville, MS 39759
662-323-5005 or Toll Free 866.325.5005
MICROTEL STARKVILLE BUDGET HOTELS
1121 Highway 182 East
Starkville, MS 39759
662-615-0700